Abbot Kinney – The Early Years
Many have walked the streets of the beautiful, eclectic Abbot Kinney Blvd in Venice, CA, but many are not aware of the rich history of this famous area. The mile-long, tree-lined stretch was conceived by conservationist and developer, Abbot Kinney. Originally from New Jersey, Kinney had an unsurmountable entrepreneurial drive in him at a young age. At 16, he traveled to Europe to study. He traveled to such places as Heidelberg, Paris, Zürich, and Venice. He also later traveled to Egypt and Ottoman Macedonia in 1876.
During his travels, he became fluent in six different languages. You heard that right, six! At age 19, he returned to Washington, D.C. where his family was, and joined the Maryland National Guard. In 1873, he joined a U.S. Geological Survey team and took part in mapping the Sioux reservations of the Dakotas. After this venture, he traveled to Salt Lake City, Utah, and Oregon before rejoining the survey team in Yosemite Valley. In 1874, Kinney began working with his older brother, Francis S. Kinney, in the tobacco business. Together, they went on to create dubbed The Kinney Brothers Tobacco Company.
Abbot Kinney in Los Angeles
Kinney continued to fulfill his love for travel with excursions through Europe, India, Ceylon, New Guinea, Australia, and Hawaii before finally settling in Southern California. After spending a single night in the Sierra Madre Villa Hotel in Los Angeles, he woke up completely free of asthma. Inspired by this sudden improvement in his health, he decided to purchase 550 acres of property in the area. After purchasing this land, he decided to call it "Kinneola". In 1886, Kinney purchased property in Santa Monica and built a summer home for him and his family. This spurred the initiation of the Santa Monica Improvement Company in 1887 (formed by Kinney).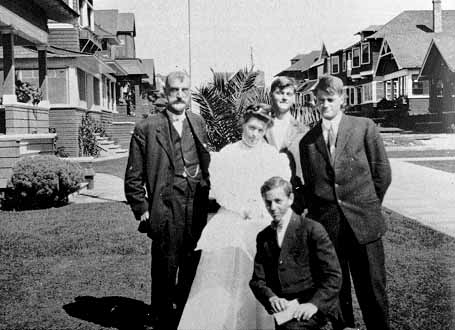 In 1891, Kinney and his business partner Francis Ryan bought a 1.5 mile-long tract of land along the Santa Monica beach. On this tract of land, they built a boardwalk, golf course, horse-racing track, and other amenities. When Ryan passed away in 1898, his widow's new husband Thomas Dudley sold half of Kinney and Ryan's interest to a group of men. However, this did not sit too well with Kinney. They ended up flipping a coin for the property rights in an attempt to negotiate. When Kinney won, he took the marshy southern half of the property to build the one and only Abbot Kinney Boulevard. His vision was to make it the "Venice of America". Unfortunately, this plan wouldn't go as smoothly as he thought it would. The public laughed at his plans, dubbing them "Kinney's Folly." However, this didn't stop the creative developer from carrying out his vision.
Kinney's Venice
Kinney saw a resort town, culturally and architecturally reminiscent of Venice Italy, which he had taken a walking tour of years earlier. He envisioned canal gondolas, amusement piers, hotels, and Venice-style architecture. To help him with this plan, he hired a landscape architect and town planner from Boston. He also hired architects to help design all of the buildings in the development to reflect a "Venetian Renaissance" style. Kinney and his crew drew up the preliminary plans in June, and contracts were signed. This gave them the green light to dig up the half-mile long, 70-foot wide Grand Canal. In addition, there would be a 900-foot long, 30-foot wide amusement pier at Windward Avenue. Finally, it was time for construction to begin.
Construction of Abbot Kinney Blvd.
In September, the Los Angeles Pacific Co. completed the very first electric trolley line, which gave L.A. residents the option to travel to "Venice" with ease. By December, the construction of the Venice Canals, St. Mark's Hotel, Ship Cafe and Auditorium on the Abbot Kinney Pier were all in progress. Unfortunately, Venice Beach was hit by two disastrous winter storms in February and March of 1905. This led to the destruction of the newly built pier. This set the grand opening date back from May to July.
Opening Day
On June 30th, the canal was filled with ocean water (at a quick 500 gallons per second), signaling the completion of "Venice of America." On July 4th weekend, a celebration of the completion of the massive project erupted. The festivities included yacht racing, swimming races, band performances, and fireworks at a massive amphitheater. The celebration drew in a crowd of 20,000 people, all gathered in awe of the new boulevard attractions. It was a total success.
After the grand opening, Kinney continued to work with architects and planners to add more and more attractions to his "Venice of America". A roller rink, dance hall, and indoor saltwater pool were some other additions made since that July 4th weekend. Thanks to his spirit and those who believed in him, we have our spot on the gorgeous Abbot Kinney Boulevard, an amazing piece of history that we are proud to be a part of!